24 Hours in Versailles Long Beach
Friday, February 7th | 8:00 PM
Beverly O'Neill Theater
Silence is a key factor of audience members during performances. Musica Angelica concerts are designed for adults and older children. Concerts are not recommended for children under the age of 7 years old. All concert attendees must possess a ticket. Individuals of any age disrupting the performance or disturbing other patrons will be asked to leave.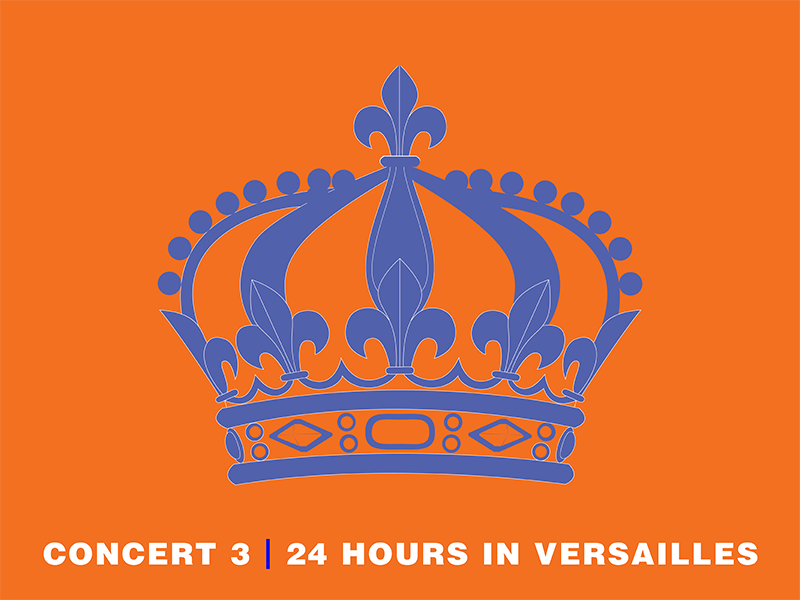 Louis XIV known as Roi Soleil (Sun King) reigned as King of France from 1643 until his death in 1715.
A musical evening that reflects the power and wealth of Louis XIV, France's Roi Soleil (Sun King.) Soprano Molly Netter and a colorful orchestra featuring woodwinds, brass, and percussion bring to life the beauty and brilliance of life at the Versailles court. Experience a royal day of music – from the King's awakening with music, musical banquets, dance, festival church and dinner music composed by Lully, Mouret, Marais, Couperin, and Rameau.
Experience a day of music at the palace, just like King Louis XIV, from the dawn chants in the chapel and the king's elaborate walking ritual to garden parties, a private mass, and a lavish night of song and dance at the theater. Woodwinds, brass, and percussion will bring to life the many facets of music of Versailles, from the grandest to the most intimate.
Concert 3
Associate Music Director: Gonzalo X. Ruiz
Soprano: Molly Netter
The King Awakes:
- Symphonie from "Trios pour le coucher du Roy" by Jean Baptiste Lully (1632-1687)
- Rondeau and Vivement from "Suite de Fanfares" by Jean-Joseph Mouret (1682-1738)
Military Drills:
- "La Marche Royale" by Andre Philidor (1647–1730)
The Garden Party:
- "Menuet de Flore" from "Les Fontaines de Versailles" by Michel-Richard DeLalande (1657-1726)
Afternoon Vespers:
- "La Sonnerie de Ste. Genevieve du Mont de Paris" by Marin Marais (1656-1728)
- Seconde Leçon de Ténèbres" by François Couperin (1668-1733)
INTERMISSION
Evening at the Opera:
- Selections from "Les Indes Galantes" by Jean Phillippe Rameau (1683-1764)
Ouverture
"Vous, qui d'Hébe suivez les loix"
Entreé des quatre Nations
"Amants, surs de plaire"
Air Polonois
Menuets
Rigaudons
Tambourins
Marche
"Papillon inconstant"
Air pour les Guerriers
Deuxieme air pour les Persans
Chaconne
"Regnez, plaisirs et jeux"
The King's Bedtime:
- Menuets from "Trios pour le coucher du Roy" by Marais
- "Les Voix Humaines" from "Deuxiéme Livre de Pieces" by Marais