Southern California Bach Festival Pass
Friday, March 27th | 8:00-9:15 PM
Saturday, March 28th | 2:00-3:15 PM
Saturday, March 28th (Including Lecture) | 5:00 PM OR
Sunday, March 29th (Including Lecture) | 2:00 PM
First Congregational Church of Los Angeles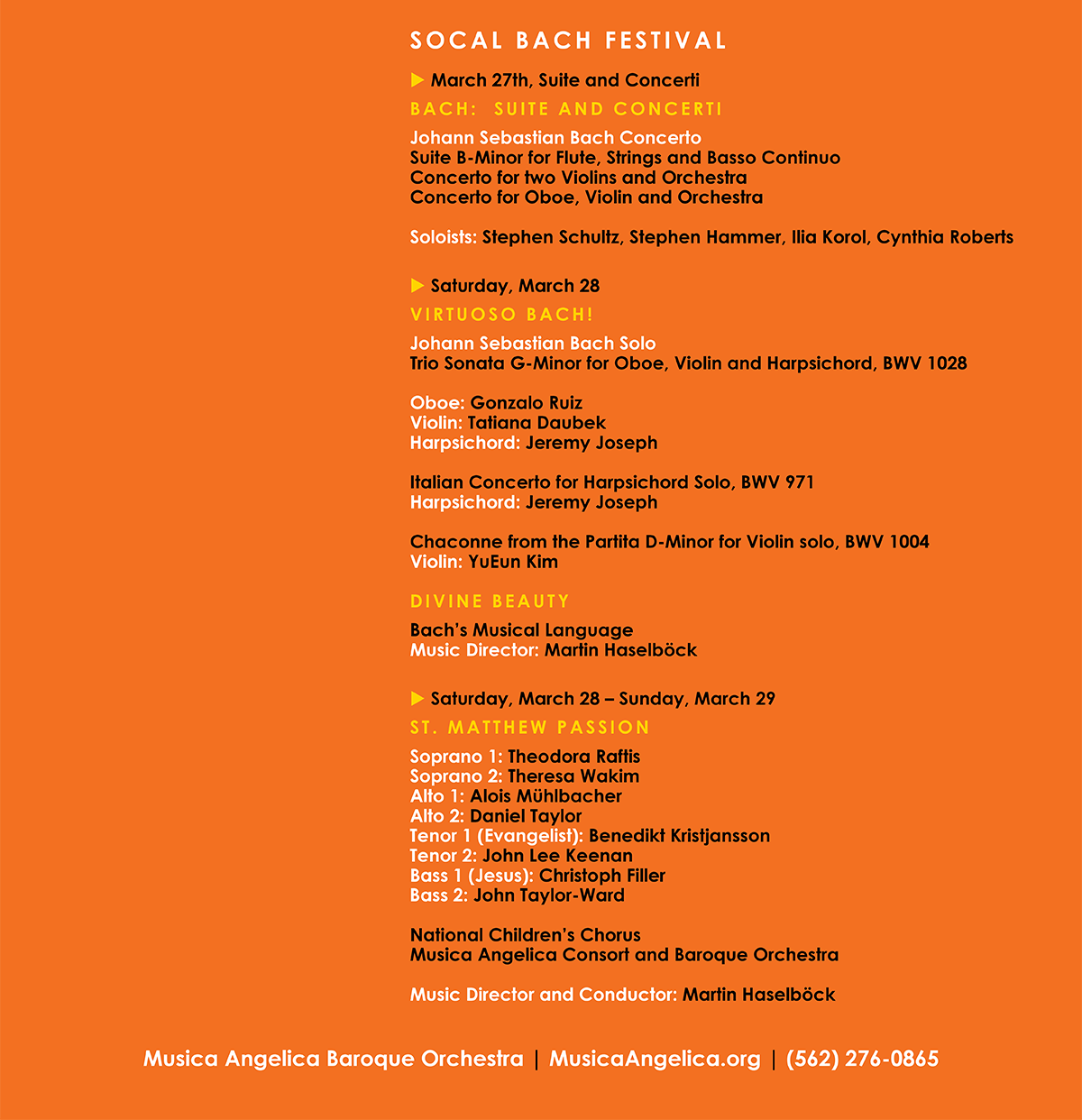 With the SoCal Bach Festival under the artistic leadership of our Music Director Martin Haselböck we want to take up this tradition.
Friday, Bach Suite and Concerti: Bach was not only a church composer, for the concert hall he did write concerti and suites asking every single player for outmost virtuosity:
Many of these pieces were written for ZIMMERMANNS KAFFEEHAUS, a coffee place with adjoint musical stage. The b-Minor Suite is scored for Flute and strings and is closing with the famous Badenerie (for sure you do know this tune !), the two violin Concerto is featuring one of the most beautiful slow movements of Bach, the Oboe/Violin Concerto is a showpiece, true musical competition between the two solo instruments. Our soloists will introduce each piece to give you more information about these wonderful pieces of music.
Saturday, Virtuoso Bach!
Johann Sebastian Bach Solo
Trio Sonata G-Minor for Oboe, Violin and Harpsichord, BWV 1028
Oboe: Gonzalo Ruiz
Violin: Tatiana Daubek
Harpsichord: Jeremy Joseph

Italian Concerto for Harpsichord Solo, BWV 971
Harpsichord: Jeremy Joseph

Chaconne from the Partita D-Minor for Violin solo, BWV 1004
Violin: YuEun Kim
Divine Beauty Lecture: In a special introductory lecture Music Director Martin Haselböck will talk about the secrets of Bach's Musical Language. What is it, which makes his music stand out so far above his contemporaries? Is it true that there are hidden messages in his musical writing ? What about proportions and numerology in his compositions? "Divine Beauty" - Martin Haselböck will give you fascinating Backgrounds to his majestic St. Matthew Passion based on his lifelong occupation with Bach and his music.
St. Matthew Passion: Bach's majestic St. Matthew Passion, his masterful Oratory will be in the center of the Bach Feast. It will be performed twice on Saturday evening and on Sunday Two additional concerts in the Sanctuary will feature some of the most impressive and beloved compositions of the Leipzig Master: his b-Minor Suite for Flute and Strings with the famous Badenerie, the Oboe, Violin Double Concerto, his Concerto for two Violins, the Italian Concerto for Harpsichord, the famous Chanconne for Violin Solo and one of the beautiful Trio Sonatas. Each program will be introduced by our soloists who will open your ears and eyes for the beauty of this incredible music.